Muc-off
Motorcycle Care Kit
An essential motorcycle care kit that brings together a hand-picked collection of top-performing muc-off cleaning products to help keep your bike looking and performing at its best.
Perfect for use with all Triumph motorcycles, our latest Motorcycle Care Kit has been created in partnership with cleaning and care product experts Muc-Off and is designed for you to more easily maintain your perfect ride.

This exclusive kit is presented in a stylish and convenient 15-litre Triumph-branded 'drybag' and includes a superb selection of Muc-Off cleaning products that are central to their simple three-step 'Clean, Protect, and Lube' motorcycle care process. 
All of these high quality products are used in Triumph's own development workshops.  
See what's included in each kit, below.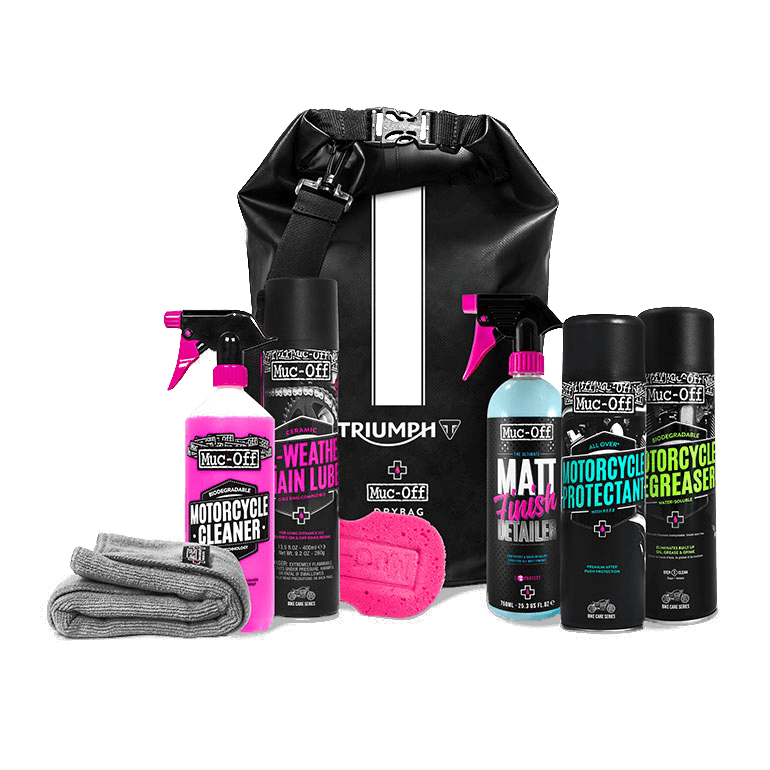 NANO TECH MOTORCYCLE CLEANER
A state-of-the-art industry-leading motorcycle cleaner that quickly and effectively cuts through dirt and grime on a microscopic level without the use of dangerous acids, CFC's or chemicals.  Comes in a handy 1-litre spray bottle.
MOTORCYCLE DEGREASER
Rapidly eliminates oil, grease and grime across metal, plastic, rubber, and seals. Its "water soluble" formulation allows it to be quickly rinsed away with even the toughest of dirty residues, leaving your bike parts completely clean.  500ml spray can.
MATT FINISH DETAILER
Specifically developed for satin matt paints, matt finishes and matt vinyl graphics (though works just as brilliantly on gloss paintwork!), this is a premium-grade formula that will leave any surface streak-free; plus, its protective layer helps reduce subsequent dirt adhesion.  750ml spray bottle.
MOTORCYCLE PROTECTANT
An all-round protectant, this is an after-wash corrosion inhibitor that is quick and simple to use and which drives out moisture, leaves a non-sticky protective layer, and prevents dirt adhesion between washes.  500ml spray can.
ALL-WEATHER CHAIN LUBE
Longer intervals between applications, with greater protection for your chain.  The high performance synthetic formulation creates a durable protective coating which guards against corrosion and metal-metal wear, plus a UV dye so you can easily check coverage.  400ml spray can.
LUXURY MOTORCYCLE MICROFIBRE CLOTH
The 'split-fibre' technology vastly increases surface area absorbency and traps dirt deep in the cloth's pile to easily eliminate smears and blemishes when adding an eye-catching final polish to your Triumph motorcycle.
EXPANDING MICROCELL SPONGE
A premium quality microcell sponge is contoured to an ergonomic shape for maximum comfort and surface area cleaning.  The sponge comes vacuum packed and, when used, it expands into an easy-to-use, bike- and wheel-friendly size!
ABOUT MUC-OFF
The go-to cleaning, maintenance, and care brand for many top riders, racers and teams, Muc-Off have over 25 years' experience in helping motorbike owners all over the world to keep their rides looking their best and running their smoothest.
The approved Muc-Off process of keeping a bike sparkling is covered in three easy stages: 'Clean', 'Protect' and 'Lube'.  All Muc-Off moto-specific products fall into these categories, making it super-easy for everyone to spend less time washing and polishing and more time riding!
Muc-Off has a vast range of application specific products from disc cleaner, protectants, weather-specific chain lubricants, degreasers and polishes as well as brushes and microfibre towels, plus much more.  Muc-Off cleaning products are safe to use on all parts of your motorcycle, and there's also the added benefit that they're environmentally-friendly too!